Appointments System
We currently do not offer the facility for patients to make online appointments.
Not all problems need a face to face consultation with the GP. Currently the majority of GP appointments are carried out by telephone first and then, if the doctor thinks you need to be seen, he or she will make you an appointment. We do have a few which the care navigators can book into directly if its obvious from your call that you need to be examined buy a doctor or other healthcare professional.
We ask that you use E-Consult where possible or, if you need to, the care navigators will need to ask you some questions before making you an appointment. People who would rather not say what the problem is make it difficult to ascertain how quickly the doctor needs to ring them and will normally be put the the bottom of the list.
All urgent cases are seen on the day. If your condition is non-urgent, you can expect to speak to a GP within 24 hours or whenever suits you best.
In an emergency, dial 999.
After 6pm, during weekends and bank holidays contact NHS 111. Please don't wait until we re-open as we may be busy and you may not get an appointment that day.
Extended Hours - Thursday 6.30pm - 8pm (doors closed 6pm-6.30pm)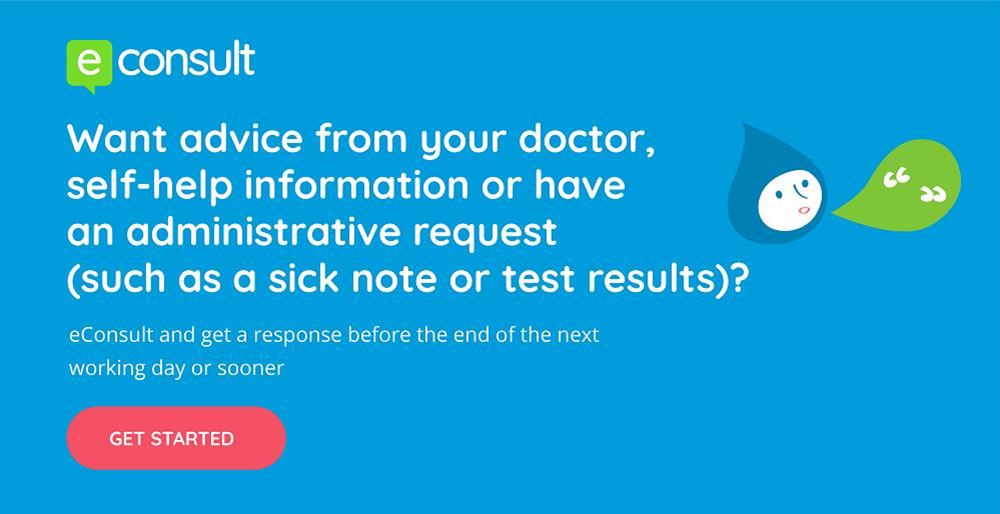 GP's on Duty
Day
Morning
Afternoon
Late Evenings
Monday

Dr Long

Dr Cockill

Dr Batley

GP Registrar

Dr Long

Dr Cockill

Dr Batley

GP Registrar

Tuesday

Dr Miller

Dr Cockill

Dr Foley

Dr Miller

Dr Cockill

Dr Foley

Wednesday

Dr Long

Dr Batley

Dr Foley

GP Registrar

Dr Long

Dr Batley

Dr Foley

Thursday

Dr Miller

Dr Long

Dr Cockill

Dr Batley

GP Registrar

Dr Miller

Dr Long

Dr Batley

GP Registrar

Duty Doctor & Practice Nurse or Healthcare Assistant

Friday

Dr Miller

Dr Cockill

Dr Foley

Dr Miller

Dr Cockill

Dr Foley
Appointments for Young People
We realise it can be very difficult for young people with problems to speak to the doctor or a nurse, especially in a small village. We are here to help you with any problems you might have including contraception, teenage pregnancy, relationship problems, bullying or abuse. We are looking at ways in which we can improve the service with our Patient Group and would welcome any young people to help us with this.
If you are under 16 and presumed to be competent to give consent for your own medical care, you will be offered an appointment, unaccompanied, if you so wish. We will always encourage you to attend with a responsible adult but this will only be a requirement if, after discussion with you, your safety is thought to be at risk.
Treatment will be kept completely confidential by everyone in the practice unless the doctor has reasonable grounds to suspect that you are suffering, or likely to suffer, significant harm.
In emergency situations when a parent/guardian or other relative is unable to be contacted and a young person does not have the capacity to consent for him or herself, we will provide immediate necessary treatment on the basis that it is in the patient's best interests.
Home Visits
Home visits should only be requested for patients who are truly housebound or because they are unable to come to the surgery because of illness or disability and that travel by car to the surgery would cause undue suffering or a deterioration in the patient's condition.
A doctor's ability to properly assess and to treat a patient is better done in the surgery and, as technology moves on, sophisticated tests, treatments and equipment are being increasingly used to improve care. Much of this is not portable and therefore not available on home visits. Several patients can be also be seen in the practice in the time that it takes to make one home visit so please try to come to the surgery if you can.
The care navigator will ask for the details of your problem to help her and the doctor decide on the urgency. The doctor may also phone you back to get more details.
Evening & Weekend Extended Access
Some of the practices in the north host late night GP and nurse surgeries from 18:30 until 20:00 and on Saturday mornings from 08:00 – 12:00. These are aimed at people who find it difficult to attend their GP surgery during normal surgery hours because of work commitments or transport difficulties.
The clinics are open to patients of Glendale Surgery, Belford Surgery, Well Close Square Medical Group and Union Brae Practice. Some of the practices also have practice nurses or healthcare assistants holding clinics at the same time. The surgeries will be held as follows:
Thursday: Glendale Surgery, Well Close Medical Group, Belford
Saturday: Well Close Square Medical Group, Berwick upon Tweed
To book an appointment at one of these clinics, please contact the surgery.
There are also clinics held on a Sunday morning with 3 slots being available at 10:10, 10:30 and 10:50 at Alnwick and Berwick which is run by the GP out of hours service. To book one of these appointments, if available, please contact the surgery who will book the appointment for you.
Not Registered for Online Services?
Cancel an Appointment
It is important that you inform the reception staff if you are unable to attend your appointment, this will allow that appointment to be offered to another patient. If you fail to notify the Practice that you are unable to attend, you will be sent a letter informing you that you have defaulted from your appointment. Persistent defaulters maybe removed from the list.
You can also complete our appointment cancellation notification request form. This can only be used if your appointment has been arranged for more than 24 hours in advance. (excluding weekends and public holidays). You can also text to cancel your appointment.
Text Reminder Service
We have a texting service which allows you to receive confirmation and reminders about your appointments.
To have this service you will need to register by completing a consent form.
Please remember to update your contact details with us when you change address, telephone numbers and email address.
Help Us
Respect
The practice team has a responsibility to each patient to provide the best care possible in a professional and courteous manner. Each patient has a responsibility to the practice to:
Arrive for appointments on time
Cancel appointments in good time when unable to attend.
Treat members of the practice team with courtesy and respect.
The practice will not, under any circumstances, tolerate any acts of abuse or violence towards any member of the practice team or derogatory comments made on social media. Any such acts may result in removal of the patient from the practice list and, where necessary, prosecution.
Telephones
The telephones are especially busy between 8.30am and 9.00am with patients making appointments. We ask that patients wanting to order repeat medication, get test results or with general enquiries, do so after 9am where possible please. Of course, appointments can be made and medication ordered online at your convenience, see Home Page.
Missed appointments
These present a problem to the practice as the wasted appointments could have been used by another patient. Please remember, if you can't attend your appointment, let us know as soon as possible.
We are closed on the last Thursday of each month from 1-4pm for staff training and meetings. During this time a mobile number will be given on the telephone answering machine for urgent GP advice only. For non-urgent advice, ring 111 or, in an emergency, dial 999. The doors will be locked so you will be unable to collect medication.
The surgery will also be closed between 6pmn and 6.30pm on Thursdays prior to the late evening surgery.